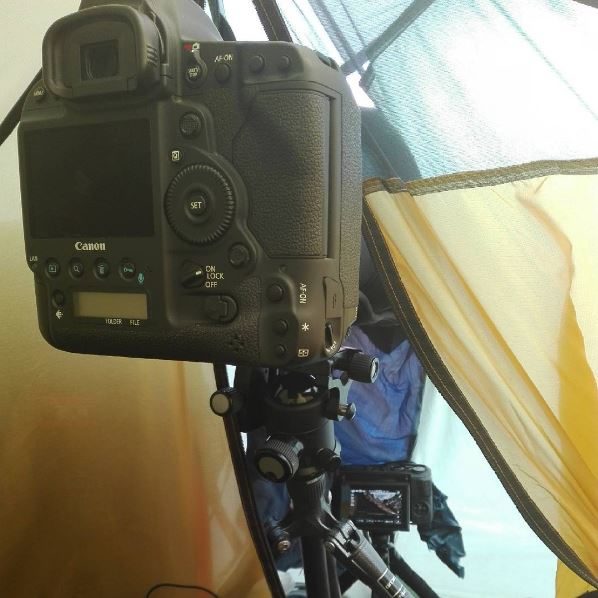 Especially when you are into nature photography and thus usually have to react very quickly to events, you often fight with poorly thought-out firmware of your camera. For years I have used the 1D family of Canon, because they convinced me in terms of ruggedness and reliability and just like any photographer I expect a perfect tool. On my last trip to the Himalayas I had a lot of excitement in this regard and I do not want to forget to tell about them here.
Actually, the EOS 1DX MKII is the perfect tool for harsh and extreme environments and it performed well over the years. But if I would write down the curses that I gave at over 20,000 feet in nowhere at -20 ° I would probably end up on some index.
Here are my charts of "annoyances"
Loading a configuration stored on the memory card takes several seconds!


Canon builds a high-speed camera capable of producing 14 frames per second and 4K videos with 50FPs, but I have to wait for miserably long seconds, while my subject runs or flies away, to load a painstakingly created setup? As someone who has been active in hardware and software development for many years professionally and personally, I am somewhat lacking the words. Are you serious, Canon ? This can be done in fractions of a second, unless the hardware and software was poorly planned. Of course, you can make all the settings manually, but with more and more complex configuration options and menu depth, this takes far more time than one actually has. These features are more than just baubles, but only if they are well done, and this is clearly not the case here. Incidentally, the few custom setups also do NOT save the complete settings of the camera.
Copying of camera configurations between the memory cards is a mess


Now it is supposed to happen that one actually fills a memory card completely with photos and films and must exchange accordingly. That one also removes the saved setup files, which are saved on the card, should be clear. Now you have a new memory card but just without its setups, but stop! One has saved his setups also on the second card the Cfast at home. You might think that you could simply load the setup from the CFast card and save it to the new CF card. Yes it's possible, but stupidly also the selected "Main Card" for photo and film is saved. If you want to save your setup on the CFast card and after loading this setup also the CFast card should be selected as the main card because it can be used for example as setup for filming in 4K / 50FPs (and this is only with the CFast card possible!), you have to configure it so. It is therefore NOT possible to save a setup on the Compactflash card which has selected the CFast card as the main memory card ! The configuration is always saved on the card selected as the main card! Thus, Canon destroyed a quick switch between film and photo! I use, for example the Compactflash card exclusively for photographing and the CFast card exclusively for filming, a switch between the two modes via stored setup is not possible (unless you copy this awkward on a PC), you have to load the configuration and manual configure CFast as a storage location for filming, otherwise it will be a very short film…
Movie configuration only visible if the camera is also in movie mode


Another incomprehensible annoyance to me! If you want to make configurations for filming you have to bring the camera in the power-eating movie mode. The mirror is folded up, the sensor permanently read out and displayed on the LCD screen. A completely superfluous nonsense which empties the battery and that is very annoying, especially in cold places!
Not possible to preconfigure one memory card for taking pictures and the other one for filming


Why isn't this possible? An elementary function that was simply left out. Of course the Canon representative will now state that the camera is primarily a photo and not a movie camera. Then please Canon stop to highlight this feature especially. You advertise a camera with great photo AND film features and then you cripple it that much that it barely makes sense to use. The managers in your executive board do not seriously believe that a photographer who also films with the EOS 1DX MKII buys it to determine then "oh, filming in 4K is possible but it's extreme unpractical, then I'll buy an EOS Cxxx Camera for another thousands of Euros … "? I'll tell you what he's doing: He's just buying a camera from one of your competitors who can do both equally well.
No automatic loading of a Movie Setup when switching to movie mode


As I'm talking about filming, why on earth was this simple but extremely helpful feature not implemented? I changed to movie mode, and the camera automatically loaded a preset setup for filming. This could make the life of the camera users much easier.
No 4K Raw out


Many times criticized and actually a joke. 4K Raw output is nowerdays implemented in much cheaper cameras. The argument to protect other product lines hardly works as mentioned above. The cost of storage is just when filming not insignificant, a 512GB CFast card currently costs about 800! € a 512GB SSD hard drive, however, just 320 €. Incidentally, the memory problem could easily be solved: Why does Canon not just build a slot for an mSATA hard drive instead of the card slots for two memory cards? A small step in this direction they already did, the CFast interface would indeed allow a simple integration. For 95% of all photographers this would mean NO MORE fiddeling around with different memory cards, because the least consume 1TB memory in one day (well, except the highspeed posers who take hundreds of photos in a minute and then afterwards check if there's a good pic… 😉
It is not possible to adjust the settings on the camera via switches on the Supertele lenses


I have been wondering for years who actually fiddels around in the field with the switches of the Superteles? This is not only impractical it chases maybe also the wild motive. So if someone out there is using this, please report! 😉 The switches are for me a relic from the 70s and long completely redundant. All possible settings on the lense could be made on the body by menu setting. Positive side effect: nothing is as expensive and vulnerable in the development as mechanics. Here Canon could save huge costs.
Joystick does not wake up the camera


Conveniently possible on earlier models, simply omitted on the 1DX MK II. The joystick will not wake up the camera! Why? And somehow you can not select the autofocus points there (I can not believe this so I have to deal with the manual again)
Touchscreen only limited use


A touchscreen is something very practical and, above all, something silent, stupidly, the least functions of the camera are adjustable via touch screen. This feature has been trimmed that much that they could have left it out right away.